Events &
Packages Research
Cittadella
The town of a wonderful circle of walls was founded in the year 1220 upon order of the Commune of Padua. Since then, the most typical traits of this little town have been exactly its exceptional ring of walls and its strategic position within the territory of Padua. The presence of man in the area where Cittadella was later founded is documented since the Bonze Age; during the Roman Empire the area was part of an important countryside centuriation where the maximum decumanus (i.e. the main road) was via Postumia, traced in 148 B.C.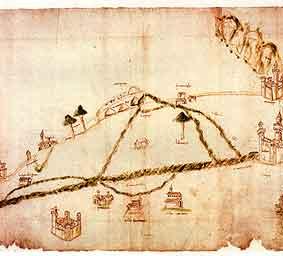 Since the 11th century various rural squires had established their rule over tiny villages that were built around parish churches as the Church of S. Donato, or abbeys as S. Lucia di Brenta.
In the Middle Ages, immediately after its foundation Cittadella was to Padua a base wherefrom the Commune could oppose the power of the local, rural squires as the feudal aristocrats of Onara and Fontaniva.

Conquered by Ezzelino da Romano for a short period, in the second half of the 1200s it played a strategic role for the surrounding territory and it flourished enormously. In 1236 Padua allowed the town to pass its own Charters and Statutes.

In 1318 Cittadella passed under the rule of Cangrande della Scala. Then it returned under Padua, then ruled by the Da Carrara lords. In the Fourteenth century the role of Cittadella grew further and the jurisdiction of its Podesta expanded.

In 1405 Cittadella surrendered spontaneously to Venice, therefore it was allowed to keep its own Charters and Statutes. In 1483 Venice gifted Roberto Sanseverino with Cittadella; his heirs kept it until 1499 while for one year, from 1503 to 1504, it was passed on to Pandolfo Malatesta as agreed upon between Pandolfo and the Republic of Venice.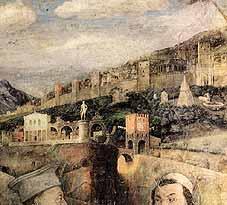 The year 1508 sees the creation of the League of Cambrai against Venice. Malatesta, the lord of Cittadella, sided with the enemy: the town was attacked several times and pillaged by Imperial troops. Venetian peace was restored in 1516 only.

After these stormy events, Cittadella lived three centuries of peace until 1797, when Napoleonic troops seized all the territory that belonged to the Republic of Venice. Cittadella became then part of the Bacchiglione department and, for some time, was even placed under the local government of Venice. In 1814 Cittadella, too, experienced the Austrian domination that ended in 1866, the year of its annexation to the Kingdom of Italy.


The Walls of Cittadella

The circle of walls that surrounds Cittadella (1220 CE) is shaped as an irregular ellipse. Together with its built-up area, it forms an organic complex of utmost historical interest for studies concerning castles, and town-planning as well. The area bounded by the city walls is organized by two cross streets that connect the four gates with the town centre, thus dividing the town into quarters that, in their turn, are divided according to a chess pattern by the typical stradelle (small streets).

The walled curtain is connected to the outside world through four bridges just next to the gates (which, in their turn, were built on the four cardinal points) that look to the nearby towns of Padua, Vicenza, Bassano del Grappa, and Treviso (hence the names given to the gates, or "porta", of Porta Padovana, Porta Vicentina, Porta Bassanese, and Porta Trevisana). The drawbridges were in working order until the 16th century, then they were gradually replaced with masonry bridges. The current bridges were built in the first half of the 20th century.

Information:
Tourist information: +39 049 9404485 - turismo@comune.cittadella.pd.it
Official Web Site of Comune di Cittadella: www.comune.cittadella.pd.it